There is plenty of accommodation in and around Broadford and the State Motorcycle Sports Complex, to suit your style and needs.
Camp under the stars at the Broadford Track!
The Broadford State Motorcycle Sports Complex has 3 main camping areas at our 3 main tracks.
Road Race, Motocross and Dirt Track/Speedway. All camping areas have full toilet and shower facilities.
Camping is a cost of $10 per person, per night and is collected each night by a staff member.
Yellow wristbands are given to all campers who have paid.
Things to note:
Campfires: Are only prohibited on days of a total fire ban. You can view fire restrictions & ratings HERE
Animals: No Animals Allowed. Guide Dogs and Assistant Animals Excepted. By Order, Motorcycling Australia Ltd
Toilets & Showers: Full Toilet and Shower facilities are available at certain locations within the complex
Local Towns:
To assist you in locating the best accommodation for you, below is a list of local towns and their distance from Broadford.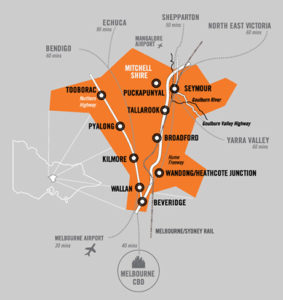 Beveridge > Broadford = 37.1km = 26 minutes
Broadford = Just around the corner!
Kilmore > Broadford = 17.2km = 16 minutes
Pylong > Broadford = 35.9km = 27 minutes
Seymour > Broadford = 31.7km = 25 minutes
Tallarook > Broadford = 12.2km = 10 minutes
Wallan > Broadford =31.2km = 23 mimutes
Wandong/ Heathcote Junction > Broadford = 17.8km = 15 minutes
Places we recommend:
More options can be found at one of the below sites – click on the image to be taken to the site: